Creating a brand is a huge step that many companies often overlook, but once a brand is established, it requires vital maintenance to keep the image you worked so hard to create. I would venture to say that a brand without consistency is probably more damaging than not having a brand at all. Brand consistency is key to successful branding.
Luckily, brand consistency isn't difficult to accomplish, but it does require some organization, communication and minimal devoted time. We have come up with 4 easy steps to help you keep your brand consistent. Follow these steps and you'll be well on your way reducing confusion and miscommunication within your company.
#1 Brand Standards Guides
A brand standards guide is essentially a reference to the elements that make up your brand. They can contain, but aren't limited to logo variations and specifications, typography, color references, imagery and trademark/copyright usage. Brand standards guides can be very complex and overwhelming with larger companies, whereas a smaller company's guide may only contain logo variations, colors, and typography.
Brand standards guides should be shared with anybody and everybody – team members and the public included. Start with your team – everybody within the company should have a copy and access to your guide for easy reference. Including it in an employee orientation package will ensure every employee receives it and gets each employee in the right brand mindset from day one at the company.
After you have ensured that everyone within the company has access to your brand standards guide, make it accessible to the public. The more the public is educated about your brand, the more likely they are to present you in a manner that is consistent with your brand. Brand standard guides for companies are fairly easy to find online. Here are a few of our favorites: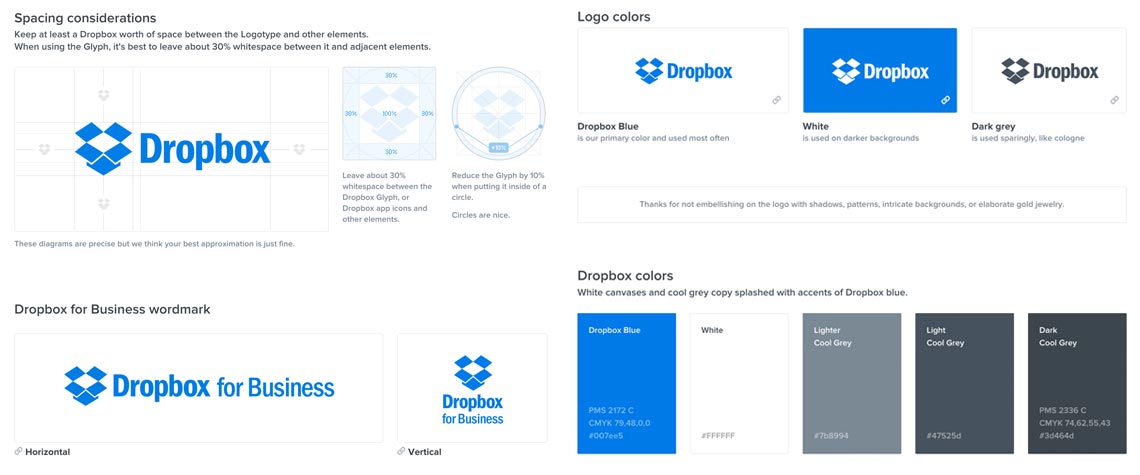 ---

---
#2 – Accessible Logos and Templates
Now that your team members have a brand standards guide and know how to correctly use the different elements, it's important to give them access. Without access to these files, it's very likely that you have materials and emails going out without the correct logos, colors, and typefaces.
We suggest a Dropbox Business account that employees have access to, where they can always find the latest versions of logos, typefaces, stationery templates and other company related materials that they may need. To learn more about Dropbox Business account and how they can help you organize your company files, visit their website today.
#3 – Communicate With Your Team
It sounds simple, but it can be a daunting task to update every employee with every change a company makes with their brand. Updated logos, color changes, new typefaces, updated slogans or marketing campaigns – these are all things that should be communicated throughout the entire company – from the top all the way down to the bottom. As mentioned above, with a Dropbox Business account, everybody will automatically be updated with any elemental changes, but you still have to communicate to them and make them aware of the changes.
I can't stress enough how consistency produces clear communication within the company and with the public. Changes to a brand should not be hastily made, but should be strategically organized. Extreme changes with a brand can be very costly, as you will need to account for replacing anything with the current brand standards – stationery, signs, advertising, marketing collateral, etc. Implementing brand standards cannot be left half complete – presenting different brand standards to the public is not only inconsistent, but leads to confusion and a view of unreliability.
#4 – Branding Your Digital Communication
It wasn't too long ago that the world was without the internet, emails, smart phones and social media. The extent of most branding was stationery, signage, uniforms and marketing materials. Today though, companies still have to keep up with all of those, in addition to all of the different social media platforms, their website(s), email addresses, email signatures and email newsletters – and there's probably more that could be mentioned.
Maintain a consistent appearance across all social media platforms (profile images, descriptions, etc.)
Assign social media responsibilities to one person or team to maintain a consistent tone with the public
Utilize your website domain for email addresses within the company.
Create an email footer template that all employees can use.
Marketing for brand consistency comes natural to some, but for many can be an overwhelming experience. Luckily, there are professionals that can get your brand in line and consistent in no time. To find out where your company's brand ranks, fill out the form below and receive your free DIY Brand Audit.
Download Your DIY Branding Audit!
How can you tell if your brand is due for an overhaul before hiring a branding firm?
Download Brady Mills' DIY Branding Audit Template! Just fill out the form to download.
The DIY Brand Audit Checklist will cover:
Voice and style
Visual Identity
Collateral
Website
Social Media
Other brand exposures
[contact-form-7 id="1346″ title="Inbound – Branding Guide"]