Are you ready to start selling your products online? Our ecommerce website design specialists are ready to help you take your online business to the next level (or help you start a new online business).
We have helped clients in many industries start their online store or revamp an existing online shopping cart. We specialize in WooCommerce and Shopify shopping cart design and development.
What is an E-Commerce Website?
Simply put, ecommerce is the act of buying and selling products and services online. On August 11, 1994 the first internet ecommerce transaction took place as Phil Brandenburg purchased Sting's "Ten Summoners' Tales" online. This was the first time that an encrypted online purchase took place and many consider this the first "true" internet commerce transaction.
Since that first online transaction, ecommerce has grown by leaps and bounds. The chart below shows the growth year over year since 2015 and estimates for 2020 (in trillions $$$$!!!).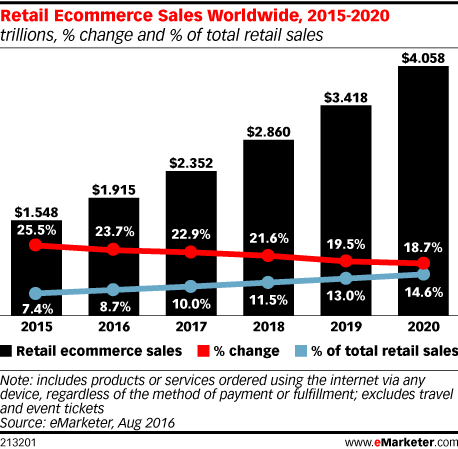 ---
Ready to Take Your Online Sales to the Next Level?
Whether you already have an online store and need help growing your business or if you are looking to start a new venture, we can help.